I love motorcycles; especially the ones that rumble down the road, making a sound that you can't confuse with anything else. A group of Harleys roaring down the road is a sight and sound that beholds me.
I got this love from my dad. Growing up, he always had a motorcycle. When I was younger, he would take me for an occasional ride, or take me to school on his bike. When I turned 11, my parents separated, and it became just him and me. That's when I truly learned to love motorcycles.
During nice weather, every weekend we would hop on his bike, and just ride. No particular place to go, but just to get out on the open road, and feel the wind in our hair, and the sun shining down upon us. He even bought me a hard-billed Harley hat to match his; I still have them both. I loved those rides…I miss those rides…I miss my dad.
That's why I always enjoy it when Bikefest comes to my area. For four straight days, I can see so many motorcycles all in one place, and I can hear the rumbling power of them riding down the road. I can't get enough of them, as they always remind me of my dad.
Time for a Cookout
This was the 15th annual Bikefest in our area, and this year my husband and I had a chance to arrange a cookout. We couldn't make it work all four days of the Bikefest, but we did decide to cookout on the two busiest days, on Friday and Saturday.

We aren't in the heart of the main area where all the bikes were, just in the general area, so we weren't overwhelmed. We made it simple by selling only hamburgers, cheeseburgers and brats, serving them with a bag of chips. We had a blast!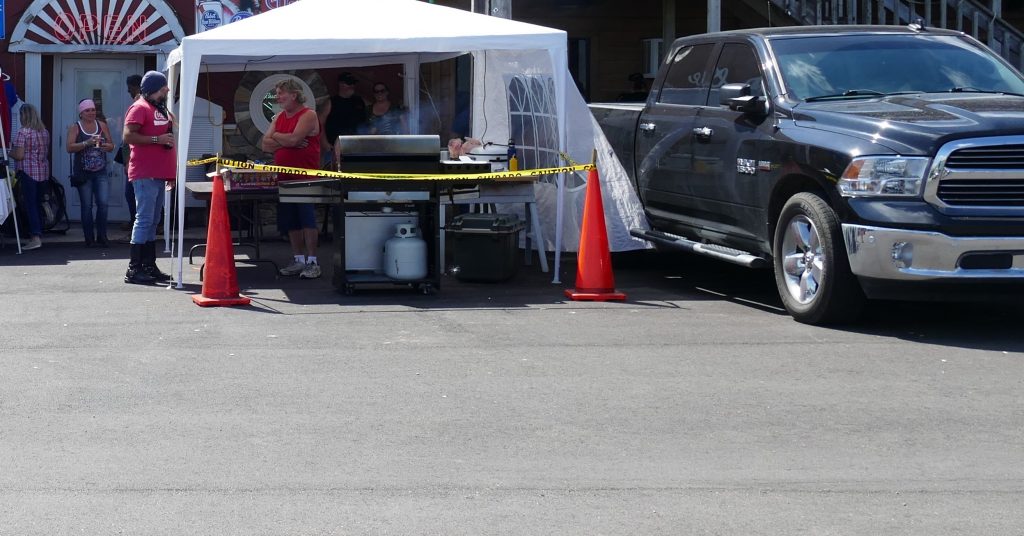 The weather was perfect for the entire weekend, and perfect for cooking out. We set up a few tables where people could sit to eat. We had a tent as well, which gave the bikers a chance to get out of the sun for a while. This worked out well, as many bikers don't like to leave their bikes unattended. They had a chance to relax a bit, get a bite to eat, something to drink, and simply take a break from the road for a bit; all the while being able to keep an eye on their bikes.
In between cooking, we had a chance to talk to many of the bikers who stopped by. I truly enjoy getting to know people, finding out where they are from, and what drives them to come to the area for Bikefest. Some people that stopped by were actually from the surrounding areas, and they didn't have that far to travel. Others had traveled quite a distance, and ours was just one of many events out of several states that they have attended.
Who We Met
There were several motorcycle gang members that we met. I love reading their names on the back of their vests, or jackets, and enjoy viewing all their patches. I like to find out where they are from, and always enjoy when they come rolling in the lot in one or two groups – it makes the sound even sweeter.
We met some people from out of town, an hour or two away, who came down to be a part of all that was going on that weekend. Many bars in the area had live entertainment throughout the festival, and the local Harley-Davidson shop had all different types of entertainment every day. These people simply wanted to be a part of the festivities.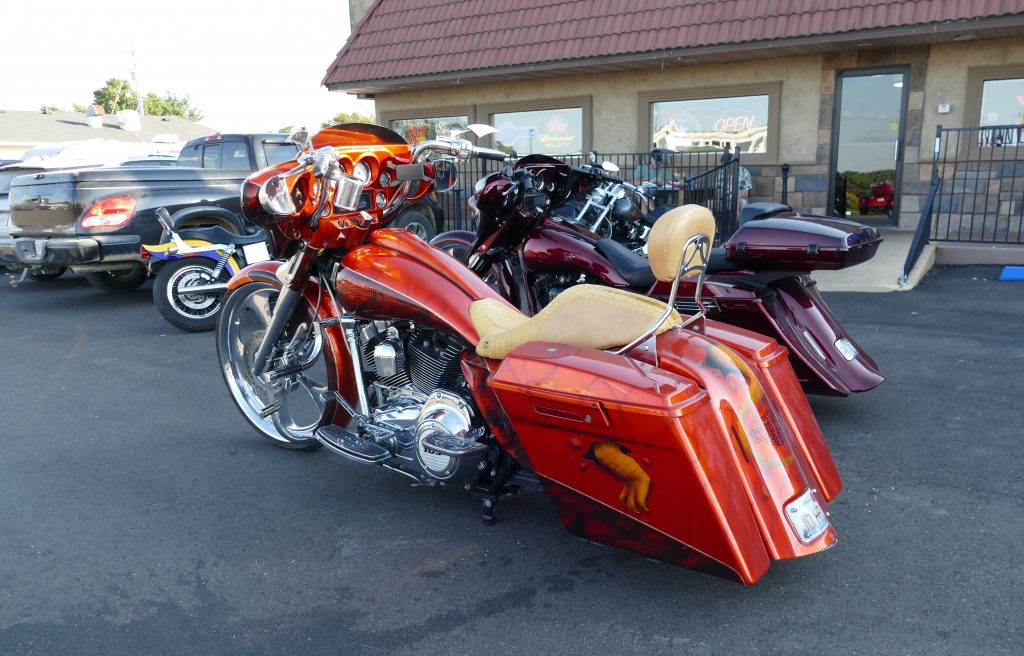 We met a man who traveled with his dog on his motorcycle; I can't remember how many miles he said that they traveled together. It was a small dog that sat on the motorcycle gas tank. The man kept a harness on him, tethered to himself. He told us that every once in a while if the dog leaned too far out, he would slide off the gas tank, which he would then simply lift him back up. As he sat there talking to us, you could tell the dog would get so excited when other motorcycles were starting up; he was ready to go.
We met a man who loved popping wheelies on his motorcycle to the delight of others. Many were recording him on their phones, and he loved the attention.
We met people from where we were originally from. It's always great to talk to a stranger about something you have in common. To hear how things have changed, and to hear about what is still the same.
We met people who simply saw our tent as a place to take a break. We laughed with them, we shared a joke or two, and we wished them a safe journey as they left.
What We Saw
We saw a lot of motorcycles. Mostly Harley-Davidson's; some others, but not many. We saw some awesome paint jobs. We saw a few trikes, the most awesome was this one sporting a 427 V8 engine: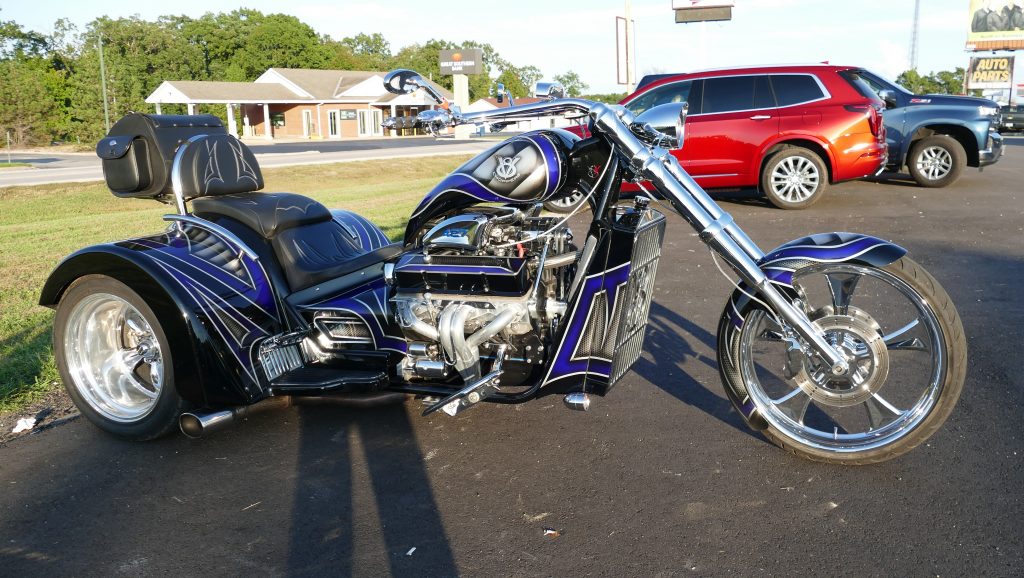 We saw an old military motorcycle with a sidecar. We saw an old rat-rod. We saw a couple of other vintage cars.
But mostly, we saw motorcycles. We saw people coming together, sharing a love for the same thing. The love of the open road, the love of the sun on their face, the love of the wind in their hair, the love of the power that sits beneath them.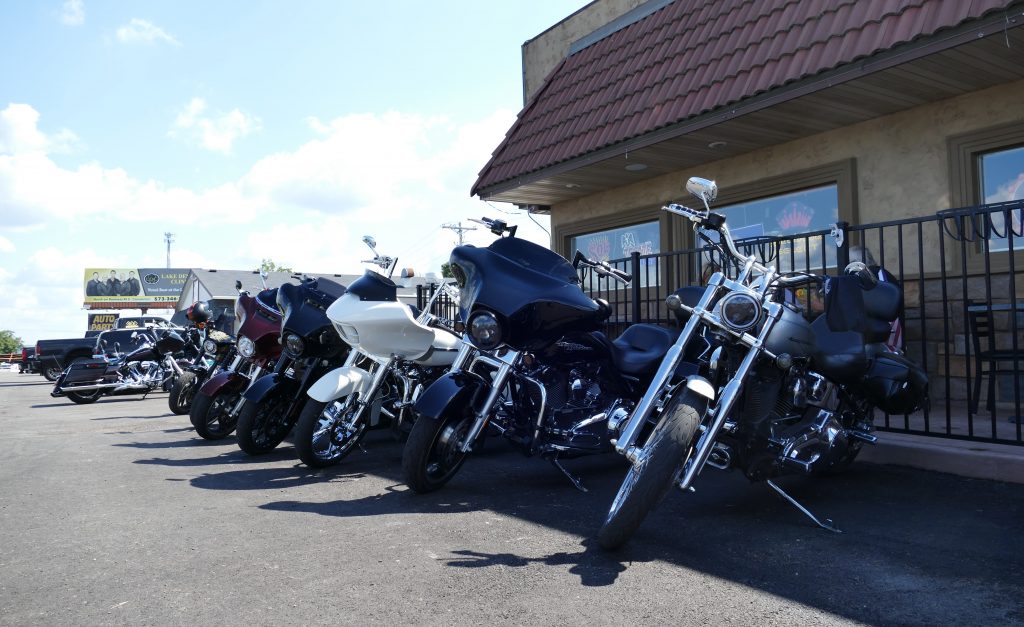 That's a Wrap
Why we never did this before, I'm not sure. It was a very long weekend. Getting home at 1 a.m. is for much younger folks that us. For just this one weekend though, it was worth every minute.
Expect us back next year.