Looking out the window the other morning, I spotted a beautiful buck wandering through the yard, so I pulled out my camera and started snapping pictures.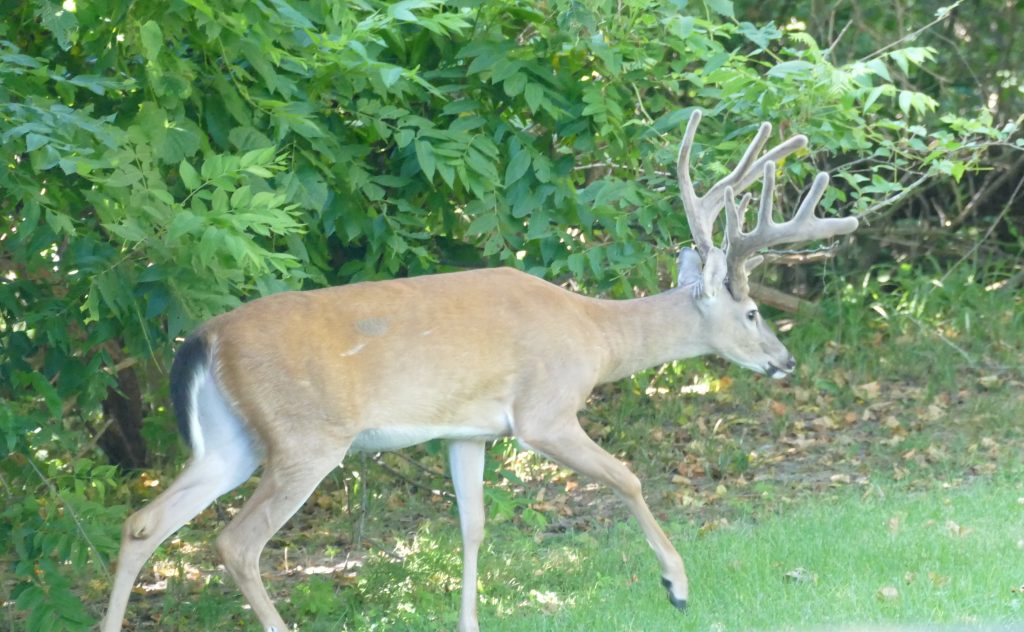 I snapped a few pictures as he wandered through the yard, snacking on the grass and leaves.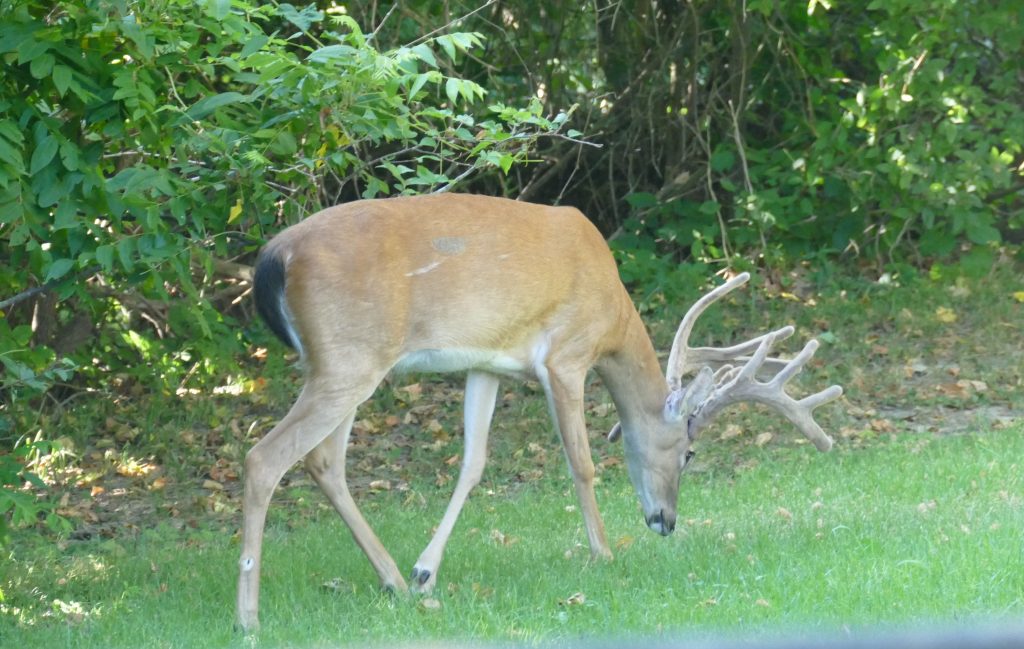 The sun wasn't all the way up yet, and I didn't have my glasses on, but after snapping a few pictures, the buck turned towards me and that's when I noticed that his antlers looked a little different. Not being a morning person, it took me to transfer the pictures over to realize that his antlers weren't quite what I was used to seeing.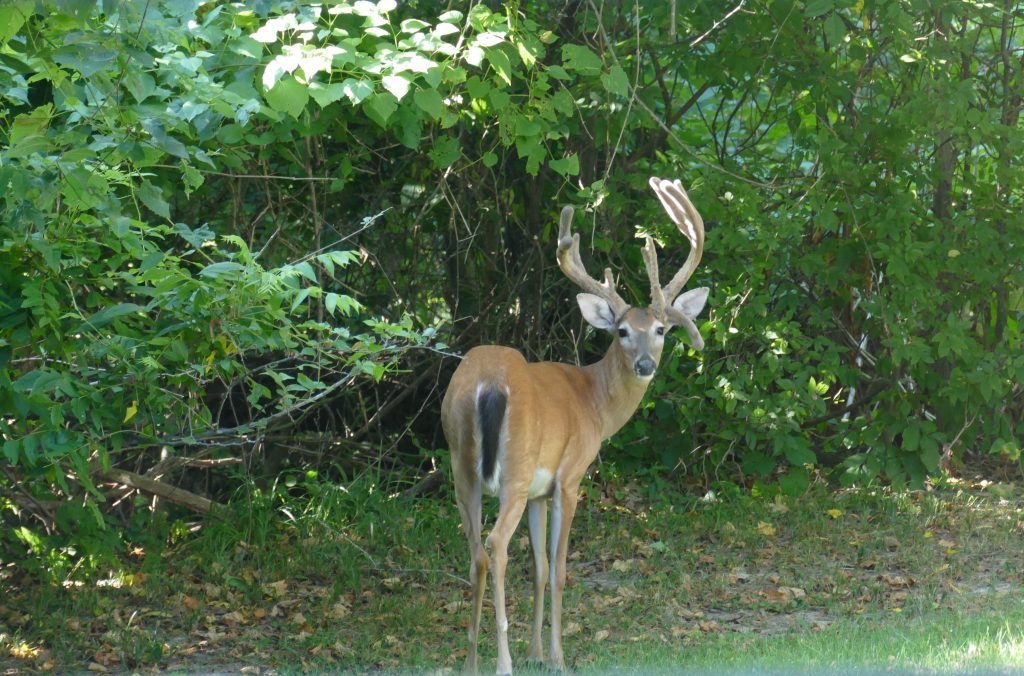 Check out that rack!
After witnessing such an odd site, I did some research to find out what would cause a deer's antlers to bend is such an odd way. I love learning about wild life, and after doing some research on this, I found out that disfigured antlers are more common that what I believed.
Following is a bit of information on how a deer's antlers grow, and what can cause the deformities.
A Deer's Antlers
A deer's antlers are actually bone composed primarily of calcium and phosphorus. Deer grow their first set of antlers when they are approximately one year of age.
A deer's antler growth normally begins in April in response to increasing day length. Antler growth is actually one of the fastest known types of tissue growth in mammals, and a deer's antlers can grow at a rate of ¼ inch per day. In approximately four months, a deer's antlers are fully developed.
When antlers are growing, they are full of nerves and blood vessels and are covered with velvet. During this time, the deer's antlers are soft and spongy to the touch.
By late summer, as day length decreases, testosterone levels begin to increase in the male deers, and their antlers begins to harden.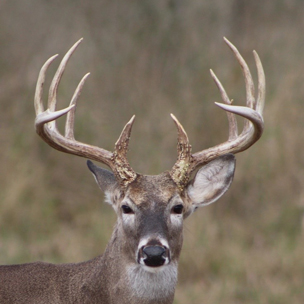 In late fall or early winter, the blood vessels within the antlers itself are filled up, the antlers dry up, and fall off. New antlers covered in velvet then begin growing and the cycle repeats itself.
The three things that determine the size of a deer's antlers are age, nutrition, and genetics. Growth in antler size is most significant between 1 ½ – 3 ½ years old, and then begins to plateau by the time a deer is around 4 years of age. Antlers will normally peak somewhere between 4 ½ – 7 ½ years of age, and after that, antler size will begin to decrease.
Nutrition also plays a role in the growth of a deer's antlers as the deer have to have enough to eat to even be able to grow antlers, and genetics can play a role as antler characteristics can be passed down from generation to generation.
What Causes Abnormalities
This if the first buck that I've seen with abnormal antlers. This of course sparked my curiosity as to why a deer's antlers would grow that way, and I found that there are several reasons why this deer may look the way that he does.
A couple reasons are the same as those that determine the size of the antlers. Genetics can cause a predisposition to abnormal antler growth, and advancing age can also increase the chance of abnormal growth. Non-typical antler growth is usually seen in both antlers though when caused by genetics.
There could be a pedicle injury to the deer that could cause the abnormal growth. The pedicle is the permanent base of the antler. Injuries to the pedicle are often a result of fighting with other bucks. If the injury is severe, it can result in abnormal antler growth for more that just one year.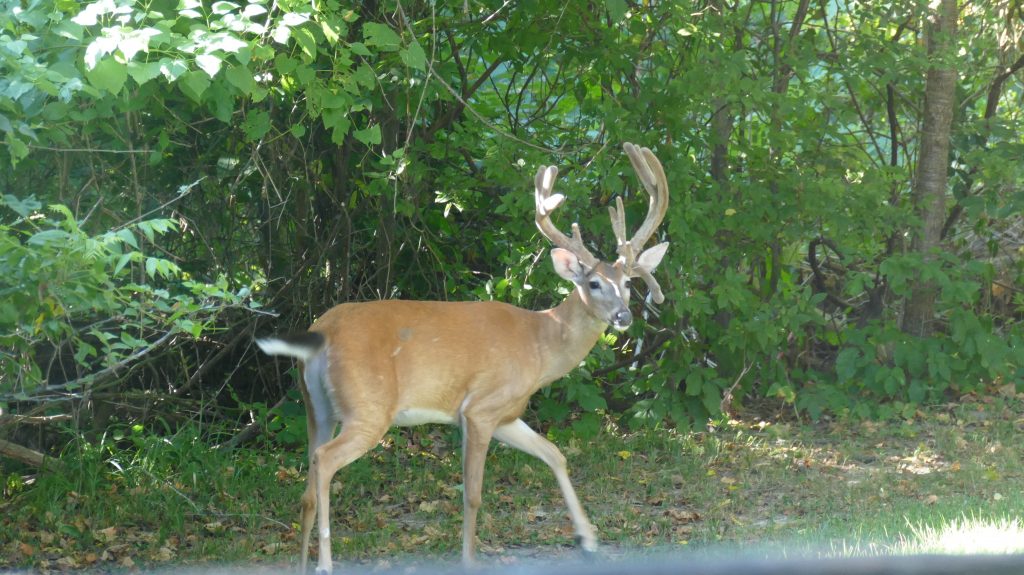 An injury to the velvet could be another cause of deformed antlers. As previously mentioned, the antlers are very soft when growing, and therefore, they are more vulnerable to injury. Downward bent antlers like the one I saw are a common result of velvet injury. Most all deer with a velvet injury will make a full recovery and grow a normal set of antlers the following year.
One of the most interesting facts I discovered when researching what causes a deer to have abnormal antler growth, is that a leg injury can actually cause antler deformation. According to University of Missouri Extension, front leg injuries coincide with antler deformation on the same side as the injury, while back leg injuries coincide with antler deformation on the opposite side. The relationship between leg injury and antler growth isn't fully understood, but it is believed to have something to do with reallocating nutrients towards the injury instead of towards antler growth. Why the same side or opposite side being affected is unknown.
Another different abnormality that I learned of while doing research on this topic, is called a "cactus" buck. This is a buck that suffers from very low testosterone production. Because of this low testosterone, the buck's antlers never shed, resulting in new velvet and antler material that grows over and around the existing antler.
Pass on That Rack
I initially felt sorry for this buck after seeing the downward antler, but after learning about the cause, and looking at the deer, I'm guessing that his antlers will be back to normal next year.
When deer season comes around this year, I'm thinking that the deformed antlers will give him reprieve from the hunters for another year, as he's not sporting a trophy rack.
I don't hunt, nor do I allow hunting on my property. I love wildlife, and I am glad I have a small place of sanctuary for the wildlife even though I wish I had more.
I do understand the purpose of hunting, as the deer population needs to be controlled, and they can also be a nuisance to some. Me, I'd rather simply watch and observe them, and snap a few pictures when I have the chance.
When I look at the pictures, I can say to myself, "check out that rack".