My favorite color has always been blue. I like pretty much everything that is blue. When I was young, I pointed out the blue-colored bird I saw one day, and commented on how pretty it was. My grandmother told me that it was a Blue Jay, and that Blue Jays were mean. I asked her what she meant, and she told me that they picked on other birds. At the time, I still thought they were pretty.
Today I still think they are pretty. I'm lucky enough to have several of them in my yard, and I've been lucky enough to have the time to observe them and their behavioral patterns. I thought it'd be great to explore some interesting facts about Blue Jays.
How to Identify A Blue Jay
Because of its large size, blue color, and crest the Blue Jay is quite easy to identify. The typical size of an adult Blue Jay is approximately 10" long. Blue Jays have a black sturdy bill, along with a black eyeline and breastband. The black bridle across the Blue Jays face, nape, and throat varies extensively and may help them recognize one another. Their crests and upper parts are blue, and their wings and tail are bright blue with black bars and white patches. The underside of a Blue Jay is grayish-white.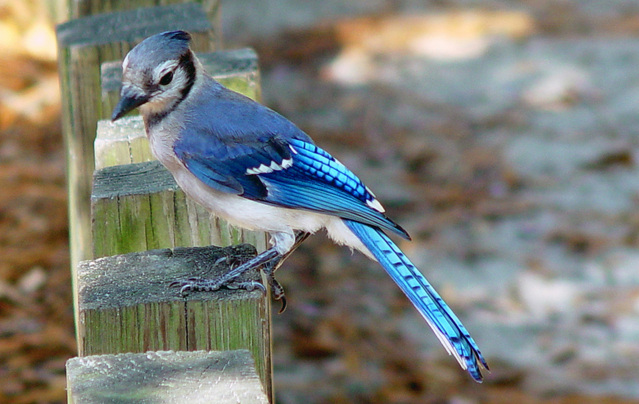 Blue Jays also have a very distinct sound. Even if I can't see one, I know that they are around simply by their call. 
It's not always easy to distinguish a male from a female Blue Jay. Males tend to be larger in size than females, but since males and females share the same plumage, size alone may not be of any help in identification. The best way to distinguish the males from the females is to observe their courtship and nesting behavior.
Where You Can Find Blue Jays
You can find Blue Jays throughout the eastern and central areas of the United States, as well as southern Canada. They normally live in wooded areas, but they also can be found in parks and suburban residential areas, or hanging around backyard bird feeders.
Some Blue Jays stay present permanently, but thousands of others migrate southwards in flocks along the Great Lakes and Atlantic coasts. Others may migrate south one year, stay north the next winter, and then migrate south again the next year. There is still a lot unknown about the Blue Jays migration, but some think that migration may be caused by lack of food in the winter.
What Blue Jays Eat
Blue Jays have strong bills which can crack nuts and acorns. Blue Jays actually help the spread of oak trees as acorns are a favorite of the birds. Blue Jays will harvest acorns and store them in holes in the ground. The birds will normally hide seeds further from the seed tree than squirrels do, which can allow for more sunlight available and overall better conditions for the seeds to germinate.
Blue Jays eat a variety of other things besides nuts. Some of the things they will also eat are corn, berries, seeds, and insects. They will chase other birds away from a backyard feeder, but they prefer a ground feeder as the typical hanging bird feeder is awkward for them.
I love attracting and watching these beautiful birds, so I will place food out on the rail of our deck. I've put out a variety of things for them to eat, such as peanuts, bread, popcorn and crackers. Normally after one bird discovers it, they will bring back their friends, and the food doesn't last long.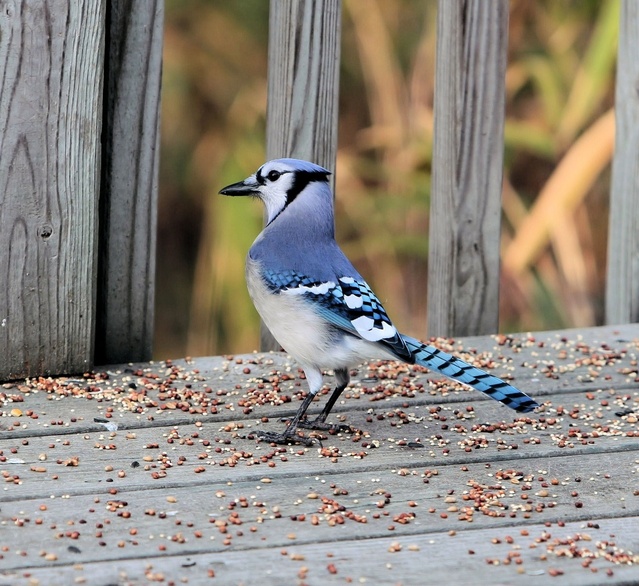 They will eat the cat food left out when the cat's away, and I have seen them chase off the crows for a piece of pizza I've thrown out in the yard.
Blue Jays will also store food for later. I have seen Blue Jays pick up as much bread as they can hold in their beak and take flight. They have an expandable pouch in their esophagus that temporarily holds food which allows them to transport large amounts of food to a place to be stored for future use.
Blue Jays will sometimes bury their food miles from their original source, and they prefer to bury their seeds in open areas that have recently been disturbed by activities such as mowing or plowing. This explains how they facilitate the expansion of oak trees.
Over a few months, an individual bird can hide their food in several thousand spots, and relocate them as needed. Blue Jays are intelligent birds and seem to remember the physical world in exquisite detail. Birds that hide food use distinctive rocks, logs, and other habitat features as cues to the locations of their buried food so they can dig it up when needed.
The Blue Jays Lifecycle
Blue Jays are monogamous, and form long-lasting bonds. The Blue Jays breeding season begins in mid-March and runs through July. The female lays three to seven eggs which she then incubates in 16 to 18 days. The Blue Jays eggs are bluish or light brown with brownish spots. The female stays on the eggs most the entire time and the male feeds and protects her.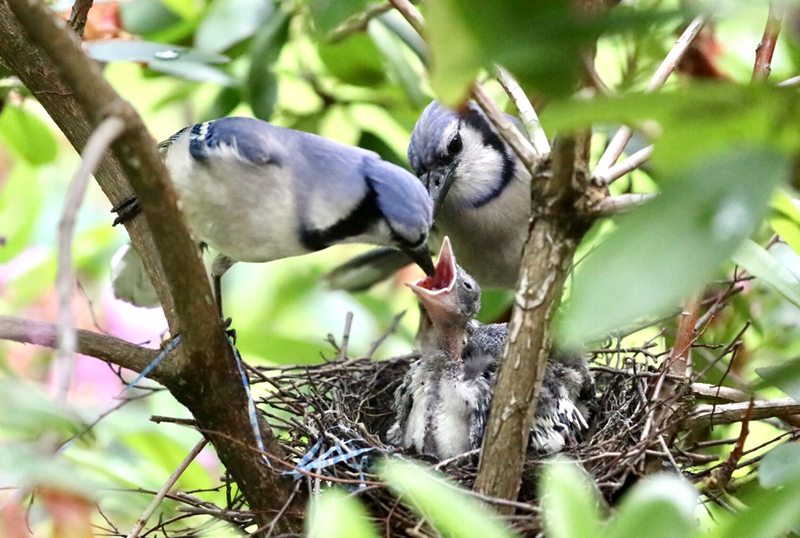 Once hatched, the newborns will remain in the nest for 2 months, and will stay with their family a while after that. The male shares the responsibilities of feeding, caring for, and protecting the offspring. Blue jays typically live in small flocks, and are very protective of their nesting site.

According to HAGR, the oldest living Blue Jay held in captivity was a female who lived to be 26.2 years old. The longest record of a Blue Jay living in the wild is 18.3 years old. From the research I found the average life cycle of a Blue Jay in the wild is about 7 years. 
Interesting Facts About Blue Jays
Blue Jays are a member of the Corvidae family, which includes ravens and crows. They are extremely intelligent, and many scientists consider this Corvid family of birds to be the smartest animals on Earth.
Not only are they extremely intelligent, they are also fun to watch. They can be very aggressive with other birds in chasing them away from food. I've watched several of them gang up on a Crow, and even when there is more than one Crow the Blue Jays will be persistent in chasing them off. Goes to prove that it's not the size of the bird in the fight, but the size of the fight in the bird.
Their gang mentality can chase off predators, but I've seen them tackle other predators on their own as well. I've seen one dive bomb the cat on more that one occasion. One evening there was a Blue Jay up in the tree having a fit just making all kinds of noise. It took us a bit, but we finally saw the black snake up in the tree that was upsetting the Jay. I don't know if the snake was scared or not, but he was slithering away from that bird.
Although Blue Jays are noisy, bold, and aggressive, sometimes threatening smaller birds, they can also be beneficial to other bird species, as they will at times chase predatory birds, such as hawks and owls, and will scream if it sees a predator within its territory. Blue Jays has also been known to sound an alarm call when hawks or other dangers are near, such as the snake in the tree, and smaller birds often recognize this call and hide themselves away accordingly.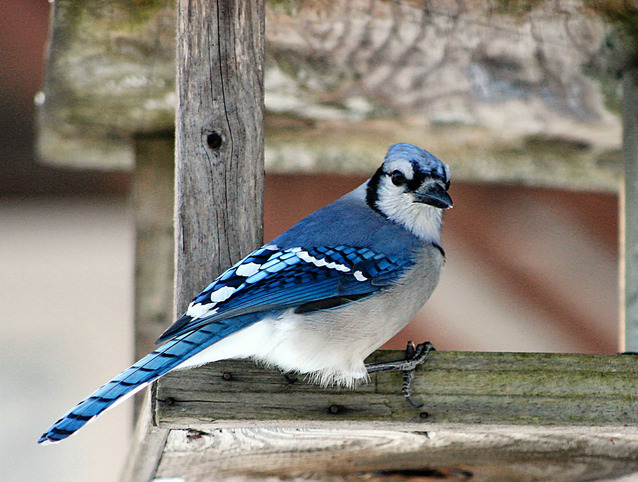 An interesting fact that I came upon when researching these beautiful birds is that the coloration of the blue jay comes from light interference due to the internal structure of their feathers. The pigment in Blue Jay feathers is melanin, which is brown. The blue color is caused by scattering light through modified cells on the surface of the feather barbs. So, if a Blue Jay feather is crushed, it will not maintain its blue coloration, but will be brown.
Appreciate the Blue Jay
Blue Jays are birds that most people either love or hate. They're loud, aggressive, boisterous bullies who threaten smaller birds, yet they're also beautiful and highly intelligent, and their complicated behaviors may actually save other birds from predators. They're useful in populating oak trees, and they're great to watch.
If you have time, Audubon has a fun memory game you can play with Blue Jays. And if you're lucky enough to have them in your yard, don't simply chase them off. Appreciate their benefits, beauty, and intelligence.