Think about one of the happiest times in your life. Your wedding day, the birth of a child, a perfect vacation, a day on the lake, a hike to serenity, curled up with a book with no one to bother you, whatever your perfect time is, take a moment to think about it…that was a beautiful time, wasn't it? Were you smiling just thinking about it? If you're like most people you were, and you may still be smiling now with that wonderful memory inside your head.
Wonderful memories bring good feelings, and good feelings make us smile. So, if good feelings can make us smile, is it possible that smiling can make us feel good? If your mood can make you smile, is there a way that smiling affects your mood?
The Science Behind A Smile
When your brains feel happy, endorphins are produced and neuronal signals are transmitted to your facial muscles to trigger a smile. This is the beginning of a positive feedback loop of happiness. When our smiling muscles contract, they fire a signal back to the brain, stimulating our reward system, and further increasing our level of happy hormones, or endorphins. In simple terms, when we feel happy, we smile; when we smile, we feel happy.
A true smile, one that psychologists call a Duchenne smile, is a sign of true enjoyment. A Duchenne smile is a smile that involves contraction of both the zygomatic major muscle (which raises the corners of the mouth) and the orbicularis oculi muscle (which raises the cheeks and forms crow's feet around the eyes). This smile was named after Guillaume Duchenne, a 19th-century scientist whose major contributions center on mapping the muscles of the human body, including the muscles that control facial expression.
So can a true smile, or a Duchenne smile, affect our mood? A 2019 study done by Psychology Research and Behavior Management shows that participants faced with ostracism who exhibited more Duchenne smiling during their exclusion also reported higher levels of positive emotion after the ostracism. Another study completed in 2012 shows that that there are both physiological and psychological benefits from maintaining positive facial expressions during stress. The feedback loop of happiness has been scientifically proven. Yes, a sincere smile can affect our mood in a positive way.
"What sunshine is to flowers, smiles are to humanity. These are but trifles, to be sure; but scattered along life's pathway, the good they do is inconceivable"

— Joseph Addison
Smiling Elevates Our Mood
Smile. Now try to think of something negative without losing the smile. It's hard, isn't it? Even when a smile feels unnatural or forced, it still sends the brain and the rest of our body the message that life is good.
When you're feeling sad and blue, try putting on a smile. Smiling can actually help your body and your mind elevate your mood because the physical act of smiling actually activates neural messaging in your brain. A simple smile can trigger the release of mood-boosting neurotransmitters like dopamine and serotonin. Smiling can make a great natural anti-depressant.
Smile for Good Health
Smiling can lift your mood, but it can also do so much more. Smiling holds the possibility of boosting your overall health. by helping your immune system function more effectively. It is thought that when you smile, your immune system functions more effectively as you are in a more relaxed state, thanks to those neurotransmitters we discussed earlier.
Smiling can also reduce your blood pressure. If you suffer from high blood pressure give it a try. Take your blood pressure as normal. Then smile and wait a minute. Take your blood pressure again while still smiling. I can't guarantee this will work for everyone, but I tried it myself and it lowered my systolic pressure by 15 points. Smiling can make a great natural blood pressure medication.
Smiling Makes You Look Good
Not only does smiling make us feel good, it can also help us look good as well. There is a true physical attraction factor associated with the act of smiling. We are naturally drawn to people who smile. Studies have shown that people who smile regularly appear more confident, are more likely to be promoted, and are more likely to be approached. Smiling can also make one look younger as the muscles we use to smile also lift the face. Smiling is a great natural face-lifter.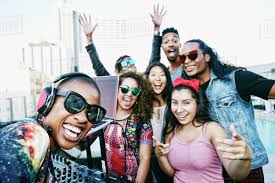 Share You Smile
Smile at others. Yes, you'll get the occasional blank look, or even grumpy face back, but so what? Maybe that person with the grumpy look that scoffs at your smile has experienced something tragic, or maybe they're just naturally grumpy. Isn't it so much better though to return a frown with a smile? Maybe your smile will make a difference in that grumpy person's life.
I love quotes and have memorized more than I've realized over the years, and have more than I could ever count written down in various places. My favorite quote on smiling comes from Dolly Parton:
"If you see someone without a smile, give 'em yours!"
I try my best to smile at everyone. I've noticed when I'm in a larger city, most people won't even make eye contact with you, but it doesn't stop me from smiling. Try it if you don't already and see what sharing your smile does for you. When you get the smiles back, it's definitely a mood lifter!
All You've Got to Do Is Smile
A genuine smile is always great to have, and it's always nice to receive a friendly smile as well. A smile makes both you and the other person smiling back more attractive. Smiling can be good for your health, smiling can improve your mood, and the simple act of smiling can benefit not only your own health and wellbeing, but it can benefit others around you as well.
Smiling is contagious. Now that you know how smiling affects your mood, smile at the cashier at the checkout. Smile at the person standing next to you at the gas pump while filling your car. Smile at others you pass while walking along. You're bound to feel better, and you never know how your smile can affect the person you smiled at.
Smile at enough strangers and it's guaranteed that your smile will make someone else smile. And if that person smiles at another, who knows how far your smile will travel.
It looks good on you baby!