What do you think of when you think of St. Patrick's Day? Leprechauns, four-leaf clovers, the patron saint of Ireland, beer? St. Patrick's Day can bring us thoughts of many different things, and beer plays a large role for many people. For these connoisseurs, St. Patrick's Day is for beer lovers.
Some people believe that St. Patrick's Day is simply an excuse for these beer lovers to drink in excess. Although there are several people that do make this an annual tradition for no other reason, there is actually a deeper meaning based in the history of this tradition, and alcohol has been a part of that history.
The History of St. Patrick's Day
Saint Patrick was born in Roman Britain in the late 4th century. He was kidnapped at the age of 16 by a group of Irish raiders and taken to Ireland where he spent six years in captivity. During this time, he turned to religion for comfort, and he became a devout Christian. He finally escaped captivity, but a vision encouraged him to return to Ireland as a missionary. He then began religious training that lasted more than 15 years. After his ordination as a priest, he was sent to Ireland with a dual mission: to minister to Christians already living in Ireland and to begin to convert others to Christianity. By the time of his death, he had established several monasteries, churches, and schools in Ireland.
The St. Patrick's Day tradition began as a feast day held in honor of St. Patrick on the anniversary of the day he died. Christians are allowed to put aside their normal Lenten restrictions on food and alcohol consumption on this day. This gives the Christians a chance to not only feast, but it gives them one day during lent where they can imbibe in alcohol. This is how excessive drinking has become linked to this celebration.
Eventually, the feast day evolved into a greater celebration to not only include St. Patrick, but to celebrate Irish culture, history, and traditions. Though the feast day began in Ireland, the first St. Patrick's Day parade began in America. The parade tradition became exceptionally popular in the 1840s, when hundreds of thousands of Irish immigrants came to America to escape the potato famine.
Why Beer
Because of the holiday from the normal Lenten restrictions, St. Patrick's Day became a day to imbibe in alcohol. Irish whiskey, cider, and other spirits are all consumed on St. Patrick's Day, but there's something about an Irish beer that is synonymous with this holiday. Beer is one of the most widely consumed alcoholic drinks in the world. It is normally cheaper than other alcoholic beverages, and it is readily available. It is estimated that approximately 13 million pints of Guinness will be consumed worldwide on St. Patrick's Day.
Green beer has become a tradition throughout the world as well on St. Patrick's Day. A coroner in New York named Dr. Thomas Hayes Curtin is credited with the idea of green beer, although different versions of this festive brew had been made before this time. Although blue food coloring is used now to make the beer green, Dr. Curtin originally used a drop of wash blue in a certain quantity of beer to create the green color.
"Wash blue" is an iron powder solution embedded with a dye and is used to improve the appearance of white fabrics. Combined with enough lager to eliminate any harmful side effects, it made a very festive drink.
Lager isn't the only thing that is dyed green for St. Patrick's Day. In the city of Chicago, Illinois, the Chicago River is dyed green every St. Patrick's Day. This has been an annual tradition for over 50 years.
When they first dyed the river, not knowing how much dye to use, the river remained green for a week. Throughout the years they reduced the dye until they added enough dye to keep the river green for one day.
With environmental concerns, the original dye was eliminated and now a powdered, vegetable-based dye is used. With the use of this new dye, the green color lasts only about 5 hours now.
Guinness In Different Form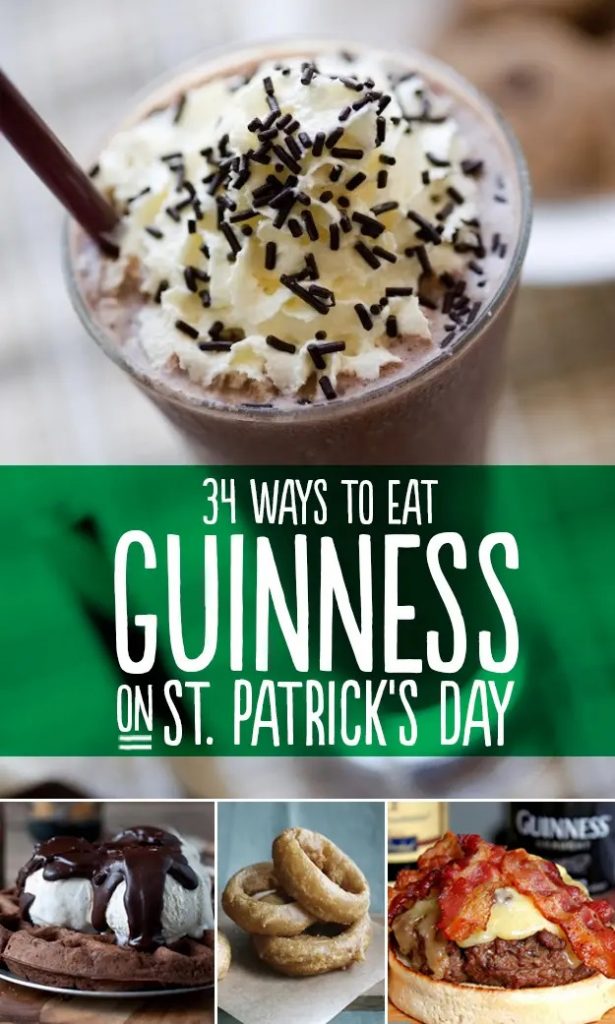 Beer and Guinness are definitely acquired tastes; either you like it or you don't. I personally don't care for either, but that doesn't mean that I still can't celebrate St. Patrick's Day with Guinness. I found a great website with 34 ways to eat Guinness this St. Patrick's Day.
It has some really good-looking recipes for most anyone's taste so we can all enjoy a little Guinness this St. Patrick's Day. We've used Guinness or beer in many recipes over the year, and it adds great flavor as well as added moisture to our food. So if you're not up to drinking this St. Patrick's Day, try one of these great recipes instead.
Celebrate Safely
Whether you go to your favorite pub, or plan a get-together with your friends, if you plan to celebrate this coming St. Patrick's Day, please make sure you celebrate responsibly. If you plan to drink, make sure you have safe transportation home. Bring along a designated driver, call a friend, a cab, an Uber or Lyft…just never get behind the wheel of a car while inebriated. You have many more holidays that you need to celebrate.
Most of all, simply have fun, as St. Patrick's Day only comes around once a year. Whether you celebrate it by drinking, or simply by staying home, have a wonderful St. Patrick's Day. And whether you drink beer or not, I highly suggest listening to the following video; it's sure to make you smile.