Cloves are a spice that is widely used to add flavor to various East Asian dishes. However, their contribution isn't limited to adding flavor, but also providing various health benefits as well. Cloves contain essential minerals such as magnesium, potassium, iron, and calcium.
Cloves are indigenous to countries in East Asia and are grown as the flower buds of the tree, which is scientifically known as Syzygium aromaticum. It belongs to the plant family named Myrtaceae. The plant is an evergreen plant that grows in tropical and subtropical conditions.
Clove, just like many other spices originating in Asia, has been used for thousands of years not only as a spice and condiment but also as a medicine for many ailments. Ayurvedic medicine used cloves for tooth decay, halitosis, and bad breath. Cloves are not only beneficial for gum diseases such as gingivitis, but they also have properties that mimic those of painkillers so they can be used for toothaches as well.
Using cloves in your meals will add a burst of flavor to them as well as aid the digestive process by stimulating the secretion of digestive enzymes. Cloves are also highly effective in killing strains of bacteria that cause diseases such as cholera.
Cloves have been shown to protect the liver, control diabetes, and enhance the immune system. Cloves have been used to treat headaches and aid in retaining bones mass for healthy bones. Cloves contain certain compounds that have a certain anti-mutation and anti-inflammatory effect. Cloves have been used to treat headaches and reduce stress, and they have been said to possess aphrodisiac properties as well.
Research has shown many benefits of cloves that can help lead one to a healthier lifestyle. With so many benefits provided by cloves, they should be household staple in every kitchen cabinet.
Note:
Clove Cigarettes: In Indonesia, cloves are consumed on a large scale in the form of cigarettes, popularly known as kreteks. These clove cigarettes have emerged as an alternative to tobacco cigarettes, but research shows that clove cigarettes are actually worse than conventional cigarettes. In the case of clove cigarettes, the amount of nicotine, carbon monoxide, and tar entering into the lungs was higher than that from normal tobacco cigarettes. So if you wish to give up traditional cigarettes, please do not try smoking clove cigarettes thinking that they will be healthier.
I stopped smoking several years ago with the help of this book:
If you think a book can't help you quit, you are wrong. I had tried everything to quit, and I quit several times before I read this book. After reading this, I finally quit for good. It gives you such a fresh prospective of why you do smoke and after the initial "what to do after dinner" awkwardness, I have never missed smoking. For the first few years there would be just an occasional one of those times that I felt like I needed a cigarette, but not having one on hand and knowing the feeling will soon pass, which it did, made that small amount of time just slightly uncomfortable. I haven't had that feeling in years now. This book works if you really have to desire to quit. Read it twice if you have to. I did, and I'm much healthier because of it.
Here's a great healthy recipe to give cloves a try:
Greek Walnut Spice Cake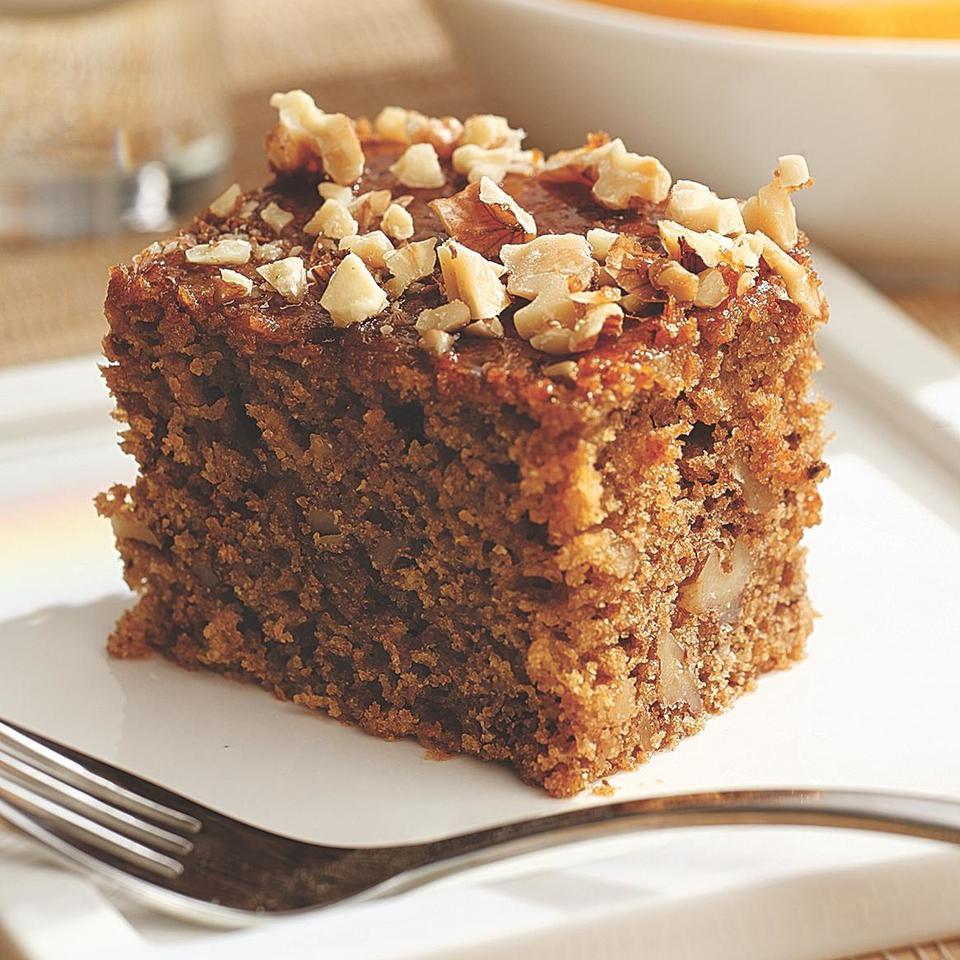 From: EatingWell Magazine, January/February 2010
A rich, flavorful syrup infuses this Mediterranean-inspired walnut coffee cake with the bright aroma of oranges and cloves. Heart-healthy olive oil and whole-grain barley flour add subtle complexity and texture to this nutty treat.
Ingredients
Cake
1¼ cups coarsely chopped walnuts, divided
1½ cups white whole-wheat flour (see Note)
½ cup barley flour (see Note)
2 teaspoons baking powder
1 teaspoon ground cinnamon
¾ teaspoon ground cloves
½ teaspoon baking soda
¼ teaspoon ground nutmeg
¼ teaspoon salt
2 large eggs, at room temperature
¾ cup packed dark or light brown sugar
⅔ cup low-fat Greek yogurt
2 teaspoons freshly grated orange zest
½ cup orange juice
¼ cup extra-virgin olive oil
Syrup
⅓ cup orange juice
¼ cup packed dark or light brown sugar
1 small strip orange zest (1-by-1-inch)
2 whole cloves
Preparation
To prepare cake: Preheat oven to 350°F. Coat an 8-inch-square glass baking dish with cooking spray and dust it with flour, shaking out the excess.
Spread walnuts on a baking sheet and toast, stirring once halfway, until fragrant, about 7 minutes. Transfer to a plate to cool. Reduce oven temperature to 325 degrees .
Whisk whole-wheat flour (see Measuring Tip), barley flour, baking powder, cinnamon, cloves, baking soda, nutmeg and salt in a large bowl. Whisk eggs and brown sugar in a medium bowl until thoroughly blended. Combine yogurt with orange zest and juice in a small bowl and stir until smooth; gradually whisk into the egg mixture along with oil. Add the wet ingredients to the dry ingredients in 2 additions, stirring well in between until just blended. Fold in 1 cup of the walnuts. Spread the batter into the prepared pan.
Bake the cake until a wooden skewer or toothpick inserted into the center comes out with just a few moist crumbs attached, 35 to 45 minutes.
To prepare syrup: Meanwhile, combine ⅓ cup orange juice, ¼ cup brown sugar, orange zest strip and cloves in a small heavy saucepan; bring to a boil over medium-high heat, stirring a few times. Adjust heat to maintain a simmer and cook until thickened, 4 to 5 minutes (you will have a scant ⅓ cup); remove the zest and cloves. Let cool.
When the cake is done, transfer the pan to a wire rack. Using a toothpick, pierce the top in about 18 places and brush the syrup over the cake 3 or 4 times, allowing it to seep in each time. Sprinkle with the remaining ¼ cup walnuts and let cool for 30 minutes; loosen the edges with a knife; cut into 12 squares. Enjoy warm or room temperature.
Makes 12 servings
Make Ahead Tip: Store at room temperature under a cake dome or in an airtight container for up to 1 day.
Ingredient notes: Barley flour has a mild yet distinct flavor, which some describe as slightly sweet and malty. Barley is high in fiber and has a low glycemic index. Look for it in the natural-foods section of large supermarkets or at natural-foods stores; it's often available in bulk. Store in the freezer.
White whole-wheat flour, made from a special variety of white wheat, is light in color and flavor but has the same nutritional properties as regular whole-wheat flour. It is available in large supermarkets and at natural-foods stores. (Or find it online from bobsredmill.com or kingarthurflour.com.) Store it in the freezer.
Measuring tip: We use the "spoon and level" method to measure flours. Here's how it is done: Use a spoon to lightly scoop flour from its container into a measuring cup. Use a knife or other straight edge to level the flour with the top of the measuring cup.
Cut Down on Dishes: A rimmed baking sheet is great for everything from roasting to catching accidental drips and spills. For effortless cleanup and to keep your baking sheets in tip-top shape, line them with a layer of foil before each use.
Serving size: 1 slice
Per serving: 294 calories; 14 g fat(2 g sat); 3 g fiber; 38 g carbohydrates; 7 g protein; 22 mcg folate; 32 mg cholesterol; 20 g sugars; 18 g added sugars; 90 IU vitamin A; 9 mg vitamin C; 64 mg calcium; 3 mg iron; 215 mg sodium; 166 mg potassium
Carbohydrate Servings: 2½